Base Processing / Burr Removal /
Shot Peening
Base processing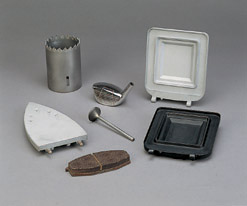 In painting and coating processes, the result is affected by its base processing.
Sandblasting does not use any chemicals in order to create the ideal surface finish or to increase the surface area to improve the adhesion.
Process Examples
| | |
| --- | --- |
| Preprocessing of painting | Bridge members/bridge/mechanical car parking etc. |
| Preprocessing of Teflon | Heat roll/hot plate/iron/rice cooker/water warmer/flying pan etc. |
| Surface improvement/Preprocessing of painting | Stereolithgraphy model/various painted parts/etc. |
| Preprocessing of plating | Golf club head/various plated parts/etc. |
| Preprocessing of coating | CVD/PVD/DLC/etc. |
| Preprocessing of bonding | Rubber molding/golf club shaft/various bonded parts/etc. |
| Preprocessing of thermal spraying | Bridge/automobile/electromagnetic cooker/various thermal sprayed parts/etc. |
| Preprocessing of soldering | Hole saw/diamond hole saw/etc. |
| Preprocessing of pressure welding | Exhaust valve/etc. |
Abrasive in use: Fuji Random (A,WA,C)
Removal of burr generated during machining of various metal and resin, metal molding.
Complicated shapes and forms such as inside a hole where processing is difficult mechanically, are where our method becomes more effective.
Process Examples
| | |
| --- | --- |
| Various lead frame | LED, hole element, mini mold, axial diode, photo sensor condenser, tantalum capacitor, Photo coupler, QTF |
| Molded resin products | CD related,PPS resin parts, commutator, ferrite, riley thermal electromagnetic switch, breaker, Reny plastic machined product |
| Machined products | Injection needle,tap,rotor, maneto stator, spool, sleeve gear turbo charger, impeller, beer server mouth, shock absorber parts |
| Metal molded products | Pump parts, super heat sink, floppy disk base, impeller, valve body, various pressed products |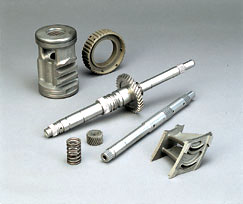 Conventional peening treatment of large and complicated materials was conducted with hands; thus, the process results were often unstable. The long hours to complete the treatment were also a burden on the technicians.
This machine let a multi axis robot hold a blast gun, with a teaching control, apply precise and uniform peening treatment. Further, with our patented direct pressure and disk unit type of quantitative spray system enables a use of the precise digital control. Fuji Manufacturing materialized an automated precise and stable peeing treatment.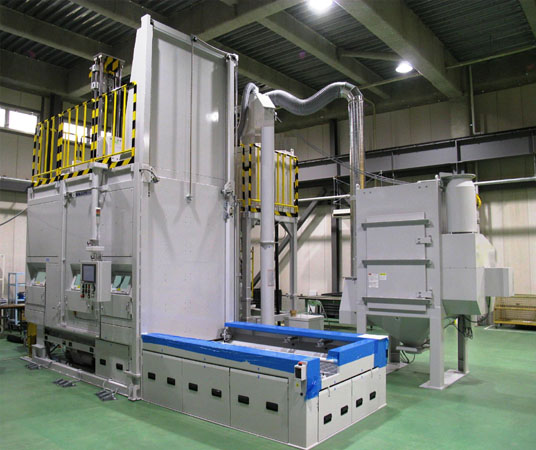 Delivery record(Industry)
Automobile
Pinion gear, differential gear, transmission gear, crankshaft, connecting rod, axel shaft
Airplane
Turbine blade, disk, body, propeller
Others
Spring in general, bolt
Generator rotor (turbine blade)
Tanks etc.
Petrochemical products (tank, structure)
Metal mold, tools
---
Contact us
All inquiries are being accepted by e-mails.Please feel free to contact us.
Contact us